Weather Day at the Deutsches Museum (06.05.2023)
On 6 May 2023, W2W scientists and colleagues from the meteorological institute offered about 10 different activities to the general public in the Deutsches Museum. During this special "Weather Day", which lasted from 10am-4pm, ca. 200 visitors
learned about clouds, by listening to a presentation by Bernhard Mayer
manipulated a radar located on the roof of the meteorological institute to better observe clouds, with Gregor Köcher and Leonie von Terzi
took part in experiments about atmospheric flow dynamics and the chaos in the atmosphere, with Jonas Späth, Annika Stenzl and Thomas Birner
learned about rainbows and other optical phenomena in the atmosphere, with Anna Weber, Lea Volkmer and Veronika Pörtge
playfully learned about photons and the challenge of producing solar energy, with Richard Maier and Mihail Manev
learned about the need for ensemble forecasts and statistics to predict weather using the MeteoFlipper designed by Federico Grazzini, and
constructed their own instruments with the help of Britta Seegebrecht and Audine Laurian.
This was a successful, exciting and fun day for the visitors, and in particular for families and small children.
Thank you to all the volunteers who made this day possible, and thank you to the museum staff for their support and enthusiasm!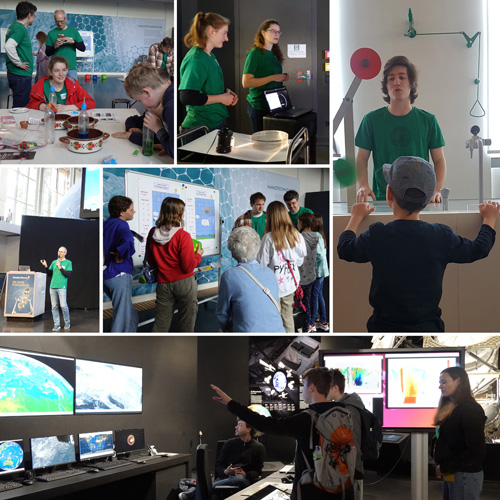 Constructing a thermometer (top left), explaining optical phenomena (top center), explaining chaos in the atmos-phere using a double pendulum (top right), explaining clouds (center row, left), playing a Monte-Carlo game about solar radiation (center row, center), explaining radar observations of clouds (bottom row).