NAWDEX Workshop (Mar. 2021)
The 4th NAWDEX workshop took place from 8-9 March 2021 online.
About 45 scientists from the USA, Canada, the UK, Norway, France, the Netherlands, Switzerland and Germany took part in this workshop.
The latest results using the unique NAWDEX observational database were presented and next steps beyond NAWDEX have been discussed. Fruitful plenary discussions and lively exchanges at poster sessions, as well as lively informal discussions, for instance during the social event on 8 March presenting photos of Iceland where the NAWDEX campaign took place in Sep.-Oct. 2016 were made possible by the online platform QiqoChat.
Thank you to all the contributors, and to the technical support team!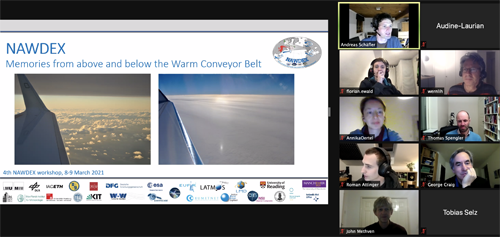 Some of the workshop participants at the social event on 8 March 2021