Daniel Kirshbaum
Daniel Kirshbaum (McGill University) is a W2W Fellow with special interest in Research Area B. He visited the meteorological institute at LMU from 27 June to 2 July, the Institute of Meteorology and Climate Research at KIT from 3-6 July, and the Institute for Atmospheric Physics in Mainz from 7-11 July 2023.
He gave a colloquium in Munich on 27 June 2023 on "Toward a causal understanding of cumulus entrainment and detrainment". And he gave a colloquium in Karlsruhe on 4 July 2023 on "Observations of boundary-layer convergence lines in the southern Great Plains (USA)".
His hosts were Christian Keil in Munich, Christian Barthlott in Karlsruhe and Annette Miltenberger in Mainz.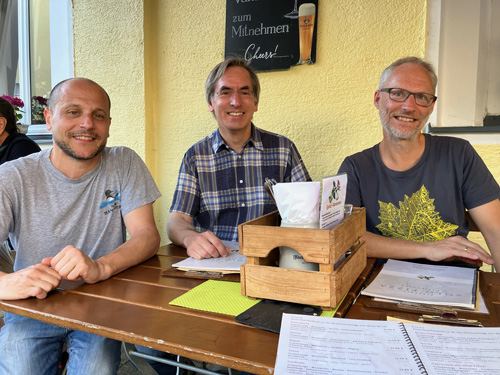 Dan Kirshbaum (left), George Craig (center) and Christian Keil (right) in Munich